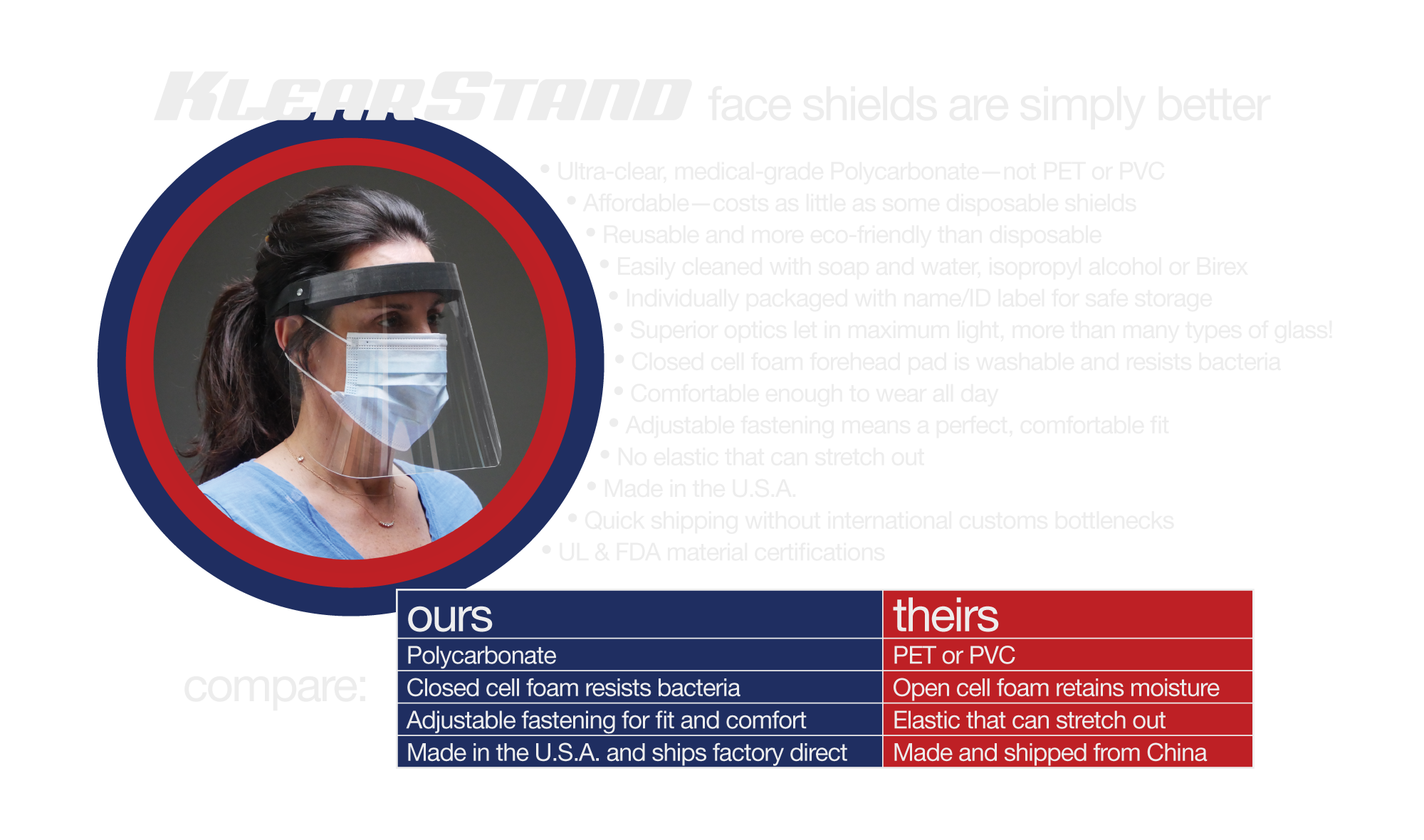 What People Are Saying
"As soon as you pick up a KlearStand shield you can tell it is of higher quality compared to most shields. Surprisingly lightweight and great optical quality. This is the best shield I've ever used."
Richard, Oral Surgeon
"I'm an RN who sees patients in their home. This face shield is of great quality. It is crystal clear, a great size, and very sturdy. I also appreciate that they didn't write "face shield" across the top of the visor. The only draw back is that the velcro on the strap can snag a little bit on your hair when putting it on. But compared to others I have purchased, that is a *minuscule* issue that I could care less about. Would definitely recommend! I will be buying more when mine eventually wear out."
Brandi, Registered Nurse
"Very well made. Velcro strap so fits everyone in my family perfectly. Fits over my glasses without a problem. Nice thick foam where it sets against my forehead. Best thing: it doesn't say "Face Shield" in huge blue letters across your forehead like most of the others."
Customer
"This is a comfortable and good quality fave shield. It comes with a film on BOTH sides make sure you take that off. It's very light weight, super adjustable and the foam part that goes on your head is comfortable."
Lee
"Omg! This face shield is amazing! It's crystal clear and it really doesn't fog up! I wear glasses, so they get foggy as it is, but this face shield does not fog up with them."
Natalie
"I really like the fact that these are made in the USA, aside from not having to wait weeks for it to arrive. I think the price is reasonable given how comfortable they are and how clear they are."
Customer
"Little more than I wanted to spend but I saw some had complaints about the shield; this one I don't have a complaint. It is clear."
Richard
"Stop searching for expensive or products that are going to take an eternity to arrive. This shields are great. Confortable, practical and durable. So far two weeks using them and no problems. They can fit any size of head. We really recommend them."
Lou
"Excellent little piece of equipment."
Angelina
"These shields are really clear and super comfortable – I heartily recommend the KlearStand shield to anyone in a business dealing with people."
Javier, Chef
"We were very impressed with the items. So far, these are the best face shield we have used. I am a nurse and have used different face shields at work. The ones that I had used at work broke easily especially after profusely sweating. The anti-fogging is a big plus. Recommended!"
Vez
"These are great! Very affordable, good construction, comfortable and easy to wear. I really like the velcro they used- it's very fine textured but secures very easily. My fiancee and I are teachers and will be wearing these daily with a mask when we return to school. Will likely order more as well! Thanks!"
Customer
"Bought this product for work. It works great. It sits comfortable on you head. It can be worn over eye glasses without discomfort or fogging up, has a Velcro band which won't stretch out (unlike elastic band), and can breath freely. Comes 2 in a pack. It's an all around great product."
Debbie
"It took a while for me to figure out the plastic sheet that was over the mask. At first after taking off the one protection sheet I thought it was way to fuzzy to see through, but after searching diligently found and removed the other plastic wrap (very thin) and all was good."
Robin
"This is the most comfortable protection we have found and I don't fiddle with it and adjust it all the time. Sometimes we actually forget that we are wearing it and try to eat or drink through it! We have many requests concerning where we obtained this and we always recommend this product."
Customer
"This product is exactly as described. It's nice to work 8 hrs plus and not have a mask in your mouth. The only concern I have for using a shield is when physically working the sweat builds up at the cushioned head piece. But again I still use it and like it. It comes down past my mouth and I feel like I am protecting myself and others by wearing this shield. I work in retail and several customers have asked me where did I get it. I also love that it is made in the USA!"
Belen
"I love these face shields. They are clear, easy to wear and make me feel more safe. I wear glasses with them without a problem. I wear them for hours at a time with no problems."
Customer
Dr. James Cherry, a UCLA infectious diseases expert, said supermarket cashiers and bus drivers who aren't otherwise protected from the public by plexiglass barriers should actually be wearing face shields. Face shields are more effective than masks in protecting the wearer from viral infection, Cherry said.
Dr. Robert Kim-Farley, an epidemiologist and infectious diseases expert at the UCLA Fielding School of Public Health, said face shields would be helpful for those who come in contact with lots of people every day. "A face shield would be a very good approach that one could consider in settings where you're going to be a cashier or something like this with lots of people coming by," he said.
From the Los Angeles Times, "Why Face Shields May Be Better Coronavirus Protection Than Masks Alone," April 24, 2020
"These are fantastic. Comfortable and easily adjustable. I wear these while working out and instructing at the gym doing very high intensity workouts. I have had zero issue with breathing or with the shield falling off."
Customer
"Works great with microphone, easy to breath, can drink with it on. Did learn that you don't have to put it on tight to get it to stay in place."
Customer
"The shield makes me feel safer knowing I am protected even when kiddos I'm working with aren't wearing a mask (some children who are young/ have special needs cannot tolerate masks). I do still wear a mask underneath, as this is recommended. It was easy to adjust and is very comfortable."
Customer
"This is a terrific face-shield it is very well made and high quality. I love that it is already put together when it arrives and I can breathe well with it on."
Customer
"The face shield is crystal clear. The straps are easy to adjust. It is not a necessarily flattering look, but will serve the purpose it is intended for."
Customer
"Very good quality item. Easy to wear. You forget you have it on. No distortion and very good value. A real 5 start item. I highly recommend it."
Customer
"Very impressed, after I removed both sides of the protective film, the full face shield was flawless! Not a single crease or dent.
The plastic is a higher quality grade and the adjustable velcro straps provided a custom fit for my head. Light weight, clear and comfortable, I definitely will re-order when necessary for added protection in public."
Customer